HELENA — Carroll's Duncan Kraft was playing for a lot of people on Saturday in the Saints' 31-17 win over Montana Tech. His parents and grandparents were in attendance with 7,000 of their closest friends, and Kraft was running for injured teammate Matt Burgess.
"Matt has kinda been a coach to me for the past couple of years," Kraft said. "Seeing him go down was tragic, I was really sad about that. I wanted to dedicate a game to him. He taught me well."
Burgess went down early in the season-opener against Montana Western, and in his first game with the lion's share of the touches, Kraft exploded for 148 yards on the ground and three touchdowns. That establishes Kraft's new single-game career-best and represents his second game as a Saint with north of 100 rushing yards. It was also his first time with multiple rushing scores in the same game.
"Duncan had a great day," Saints head coach Troy Purcell said. "You talk about a class kid all the way around, C4 mentality, good character, does things right. He runs hard. He's a very, very good runner. Plays over his pads well. He's really starting to develop as a receiver out of the backfield. Play your best when your best is needed and good players play in big games. We lost [Matt] Burgess and it was a sad day when we lost him, and these other guys need to respond and it was proven today by Duncan and Baxter Tuggle."
In front of a packed house for the first time since 2019, Carroll outlasted Tech with the help of 180 yards on the ground. The Saints ran the football 47 times, including numerous instances on their game-sealing 14-play, 77-yard drive late in the fourth quarter.
Kraft's 10-yard touchdown scamper pushed Carroll's lead back to 14 points after the Orediggers rallied from 17 points down at halftime to make it a one possession game mid-way through the game's last quarter.
"Last week we didn't finish," Purcell said. "Last week we did the same thing. We're up by four, have an opportunity to drive that thing down and we didn't finish. It was a good growing and a good learning experience for our offense to be able to seal a game and put a drive together…That was an important drive for the program, honestly."
Having drawn back to within a touchdown late, it looked as if Tech would overcome what was a nightmarish start. On the Orediggers' first drive of the contest, an errant snap on a punt set the Saints up at their opponent's one-yard line. Seven minutes later, Carroll was back in the end zone on Kraft's first scoring run, opening up a 14-0 advantage less than 10 minutes into the game.
"Tough loss. We started slow," Tech head coach Kyle Samson said. "We had a turnover right at the beginning of the game on the bad snap. Just took us a while to get going. I thought we came back and played well in the second half. Hats off to Carroll, they played well today. We just dug ourselves in a hole that we couldn't come back from."
Samson said his club seemed to find its rhythm offensively in the second half after entering the halftime break down 17-0. A 19-yard touchdown pass from the right arm of Jet Campbell to Trevor Hoffman got the Orediggers on the board mid-way through the third quarter.
Jared Griffith banged through a 32-yard field goal to close that quarter and Campbell's second touchdown of the game, this time a 32-yarder to Kyle Torgerson, made things interesting. In response to Carroll's lead-extending drive late, however, Tech turned the ball over, ending the comeback effort altogether.
"I think overall as a defense we came together as a team," Carroll safety TJ Abraham said. "At the end, I just happened to be the one to make the play. It was a heck of an effort by the defense and we played hard, played well. It was a fun way to finish it."
It was Abraham that picked off Campbell with around 90 seconds to play, capping off what was a solid showing by the Saints' defense.
"It was just, 'let's go out there and play,'" Abraham said of the defense's mindset on the final Tech drive. "Us as a defense we've been in that position a couple different times and it was just one of those things where it's just another play. Our mindset was 'let's go out and get it done.'"
Carroll's defense totaled two sacks on Saturday and six tackles behind the line of scrimmage. Abraham paced the team with 10 tackles as the Saints held Tech under 100 yards rushing and 300 yards total.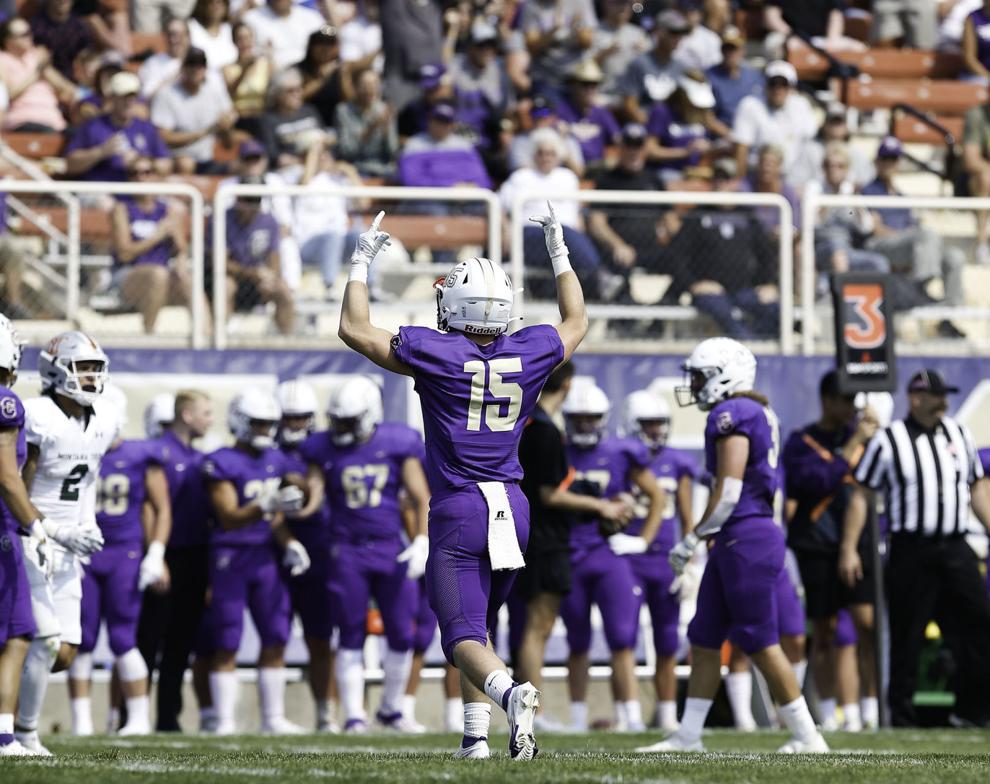 Tech's Jet Campbell went 17-for-32 passing for 205 yards, two touchdowns and an interception. Hoffman and Torgerson caught a combined nine passes for 144 yards and two touchdowns and Kaleb Winterburn rushed 10 times for 38 yards.
The Orediggers fall to 0-2 with the loss.
"We just gotta get back to work," Samson said. "It could go two ways: we could hang our heads about it or we can get better. We just gotta get back to work getting better."
Carroll totaled nearly as many rushing first downs (14) as Tech did total first downs (15) on Saturday. The Saints ran 10 additional offensive plays and neared the 350-yard plateau.
Quarterback Devan Bridgewater went 18-for-25 through the air for 168 yards and an interception. Kraft, in 29 carries, never ripped one off longer than 24 yards, but averaged 5.1 yards per carry. Tony Collins and Camron Rothie each caught five passes for 63 and 42 yards in the win.
Carroll improves to 1-1 on the young season.
"I just thought our guys played well," Purcell said. "They rose to the occasion. Two great football teams, two teams that came off pretty close losses last week. It was going to be a dogfight, but there's nothing better than Nelson Stadium and playing Tech on a beautiful Saturday and finding a way to win. Just really proud of our coaching staff and our players."
Statistics not yet official